Affiliate Marketing
I would say that this is probably the most pofitable way to make money online. But not the easiest or fastest, it may take some time-but in the end: The more effort you put in to it, the better result you will get! When you are done, you may have got yourself a profitable passive income, that can return to your bank account every month without you having to do much.
But there is a lot you have to learn to become an succesful affiliate. This is what you need to know:
What affiliate market is and how it works

What products you should promote and about dirrefent type of commissions

About niches and how to know which one you should pick

Good content in your website/blog

Different ways of getting traffic to your website/blog
To learn more sign up to Affilorama, the founder of Affilorama is Mark Ling (the most respected affiliater, with more then 10 years of experience) He is also the founder of Traffic Travis and the Affilorama Blueprint, which is the absolute best way to learn about affiliate market and to become a succesful affiliate!! This will probably be your most important investment!!

What is Affiliate Marketing and how does it work?
By being an affiliate you are marketing another business (or your own, if you have a product). You, as an affiliate get paid for referring customers or sales to another business. You referr by writing about their products/services and adding links on your website or blog going to their company.
So if you want to promote a product, there is a lot af affiliate networks you can join! Here is a list of the best ones:
What type of products to promote?
There are thousands of different products out there, those products that are the most profitable to promote are those who are non shipping, for example: e-books, services, memberships, softwares and programs e.t.c.
Different type of commissions
• Paid Per Click (PPC) - You get paid for every time a visitor clicks on your links.
• Paid per impression (PPI) - affiliates are paid only for the merchant's ad appearances on the affiliate's site.
• Paid Per Mille (PPM) - You get paid for every visitor that is viewing the ad and they don´t need to click on it.
• Paid Per Sale (PPS) - You get paid for every sale. It can be counted in amounts or percentage.
• Paid per lead (PPL)- You get paid for leads instead of sales.
• EPC - Stands for earnings per hundred clicks.

Niches
It usually is rather hard to decide what nich to use. There are so many to "pick". First of all, it´s a good idea to write about something you already know a little about. Think about what your interests are and then se if anything of that can be a good nich. The nich should not be in a too high competition, and how can you know that? There is a program called Traffic Travis that is excellent, you type in the niches that you are considering choosing-then Traffic Travis goes through the database and give you information about cempetition and much more.
I strongely recommend you to get Traffic Traffis, it´s free and it will be a great research center for you, for choosing niches and SEO, uncover simpel mistakes on your website, find out why competitors outrank you-so you can beat them. You can also search for similar websites to yours for link finding. You can get Traffic Travis here.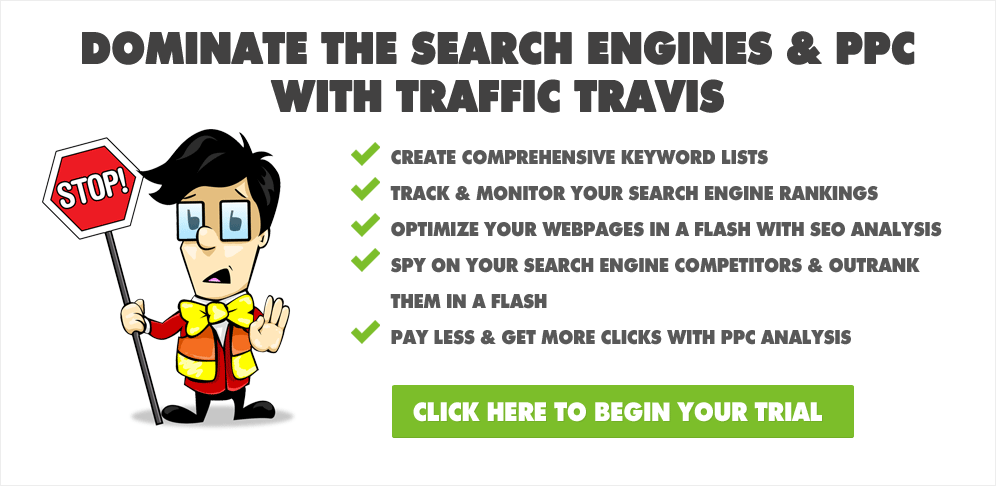 Good content in your website/blog
It's very important for you to have a unique content on you site. Do not duplicate from another site. That is very bad for SEO, Google for example will notice this and it is not good for your rankings. Something that is very important aswell is that you have a correct spelling, this is important for SEO and offcourse your visitors. They don't want to read something that isn't spelled well. So make sure that the content of your website is spelled correctly and easy to read so you can easily navigate around the website.
Images exists all around the web, but think of the copywrite when you put in pictures to your site! The best thing is to buy images online. It really isn´t expencive and you can relax! Here are a good site from where you can buy images:
If you click on this link, you will be getting free pictures!
How to get traffic to your website/blog
You can get traffic to your site in different way´s. Many only think of SEO (search engine optimization) or PPC (pay per click). But there are some other ways that you may want to consider:
Links from other sites: To become a succesful affiliate, getting links to your site is very importent. Not only for the traffic, but also for search engine rankings. The more backlinks you got to your site the better ranking. Down below i have written about article writing and posting on blogs and forums - that is two great ways of getting backlinks!!
Article writing:Write articles with the same topic as your website and publish them at article sites will get you more traffic and also backlinks to your site. I have listed a couple of article sites here, and HubPages also allows you to earn residual incomes. You can read more about article marketing here.
HubPages allows you to earn residual income and link back to your websites. This is the best article marketing site.
ArticleBase

ArticleBase allows your articles to be submitted to other websites in conditions that these websites will publish a link back to your website. This makes this site a tremendous resource for building backlinks.
Article Directories
SubmitEdge will write you an unique article and submit it to a 100+ article sites!
AMAutomation.com
AMAutomation have a mechanism making sure your articles are unique. A membership at AMAutomation let's you submit unlimited articles to numerous article and blog sites.
Post on blogs and forums
This is an exellent way to make yourself visible. But do it the right way, without spamming, this will only risk you getting banned. Put some effort in to it and get a good reputation.
Find some high traffic blogs and forums, in the same nich as yours. Check them out, read and get yourself familiar with the discussions. Start replying and be helpful, think about what you say in the posts. People will then start checking your website out and you also get more backlinks to your site!
If you would like another great way to get traffic and improve your search engine ranking, here you can get the Rankbuilder 2.0 SEO & Traffic Generation Software!
This is an affiliate site, and actually my first one. I didn´t know anything about building websites and didn´t even know what affiliate was. But now about 2 months (also work full time) after i heard about it and decided to give it a try- i started reading about it (a lot!), checking out different programs and sites, then i learned how to use Dreamweaver (probably the best and most advanced website building program), took some time to learn - but now i am so glad i learned it! It´s really a great program, and i really enjoy building websites :)
If you want to try Dreamweaver, you can get a 30 days trial. There is a lot of learning videos about Dreamweaver on youtube. I strongely advice you to learn how to build your website in code mode. Dreamweaver have a design mode which allows you to build it without the codes. But it isn´t that hard to learn the codes as you may think. And the design mode isn´t 100% reliable and then you have to go in to code mode and fix it there anyway.
My next project is just about how to build a website. I will present it under: Latest News when it´s all done, it may take a while.